Meeting for the week of May 28 – June 3, 2018
This Meeting at a Glance:
Program: Marketing Challenges and Opportunities for Nonprofit Organizations
Speaker: Benay Todzo
Is this your first time to visit us? If so, welcome to our weekly online meeting! To complete our meeting, please continue reading from here to the bottom of this page.
Each Monday our week's meeting is posted early in the morning, U.S. Pacific Time. These meetings are designed so that you can read and watch what we post anytime during the week. The entire meeting takes about 60 minutes to complete, with the video conference recording of the program being the bulk of the time.
Note that you can easily read this meeting with your favorite device, so feel free to take our meeting on the go with you; read it while on public transit, waiting in line for coffee, or even at the park! Please also make sure to complete the attendance form at the bottom and leave a comment. Enjoy!
---
Welcome to the Rotary eClub of Silicon Valley!
Here's a message from President Stephen:
Hello Everyone!
Welcome to all our members, guests and Rotarians around the world. This week/s meeting, we have Benay Todzo and her experience as a marketing professional, teach us about the various methods that non-profits are using to reach their audiences by integrating modern digital technology with traditional networking. I'm sure many of you know of an organization in which you volunteer your time to support and are passionate about so I speak for all of us when I say that we are excited to have Benay provide us with some valuable information to share with the organizations that we support!
I hope you enjoy this week's program and, as always, please don't forget to share your thoughts on the Disqus below.
Sincerely,
Stephen Zhou, President
Rotary eClub of Silicon Valley
---
Weekly Funny with the Lady of Laughter (LOL)
We believe laughter is an important part of life, and we should all make time to laugh a little. This segment of our meeting is meant to tickle you just enough. These funnies are curated by member Yvonne Kwan, our "Lady of Laughter!"
Is anyone else's allergies going crazy this season? Just thinking about flowers and gardens makes me want to sneeze.
What did the gardener say to the DJ at the party?
Lettuce turnip the beet!
Did you hear about the plant that always told lies?
No one ever be-leaved him.
What did the big flower say to the small flower?
What's up, bud?
---
Weekly Inspiration
Every week we start our meetings with a short video highlighting innovation, inspiration, entrepreneurship, or social change.
It was the dawn of 1863, and London's not-yet-opened subway system — the first of its kind in the world — had the city in an uproar. Most people thought the project, which cost more than 100 million dollars in today's money, would never work. So how did they do it? Christian Wolmar explains how the London Underground was built at a time when no one had built a railway under a city before.
How the world's first metro system was built – Christian Wolmar
---
World of Rotary
It's hard to say exactly when firefighter Dionisio Mitchell started experiencing symptoms of post-traumatic stress disorder – the anger, the impulsivity, the lashing out. Maybe it was after the on-the-job vehicle rollover that could have taken his life. Or after he responded to a call and saw a two-year-old boy die after being hit by a car.
Learn more at https://www.rotary.org/en/relief-first-responders.
---
Coffee With a Rotarian
A natural part of Rotary is the networking and the fellowship you get out of meeting other Rotarians. Coffee With a Rotarian is a monthly program of our club where we match participating club members for one-on-one virtual (or in some cases in person) coffee meetings, so they can learn more about each other. This program is organized by member Tzviatko Chiderov.
This week we have Rushton from San Jose, CA, USA and Angela from Sydney, Australia.
Coffee with a Rotarian – Ange and Rushton
We encourage all club members to participate in Coffee With a Rotarian. You can sign up here!
---
Service Report
Tell us about service you've done recently in your community.
Click here to fill out The Rotary eClub of Silicon Valley Service Survey
  
Service reports from club members for last month:
John Lozano coordinated and lead a training for CISV (Children's International Summer Village), a non-profit for youth that educates and inspires action for a more just and peaceful world. Over 25 youth from the Bay Area will travel international to participate in several domestic and international programs including Washingtonm, DC; Athens, Greece; Genova, Italy, and Cario, Egypt.
Monique leConge Ziesenhenne volunteered cleaning Mt. Zion Lutheran Church/Crestmont school to prep for Easter celebration
Richard Knaggs donated 15 Robotics Sets to West Riding Preparatory.
Yvonne Kwan volunteered with Oakland's Plant Exchange as a traffic controller, helping to direct participants to the plant pickup zone and ensuring that pedestrians are safe.
The San Diego Rotaract Club hosted a house build in Tijuana, Mexico with the nonprofit Casas de Luz. Over the course of one and a half days, we worked with master carpenters to build a house from the ground up as well as decorate and furnish the interior. The house was given to a family of 5 who also had the opportunity to work alongside us.
Nate Gildart: Edcamp Kansai. Planned and coordinated a free teacher's event in Osaka.
Raquel D'Garay-Juncal helped with logistics, supply chain and leisure activities throughout the Holy Week missions.
---
For Members Only
Past Announcements
---
Our Events & Projects
We hold our meetings online, but we do regular service projects and social events in the Silicon Valley! This section is updated every week with our upcoming events. We welcome guests to all of the events and service projects listed here.
Also be sure to join our Meetup Group for automatic calendar updates and to RSVP for our events! These are open to all guests as well!
Upcoming Events:
All times are Pacific Time! (San Francisco time)
June 1-3, 2018 – San Jose, CA – Rotary District Conference for our home district, District 5170 – conference activities begin Friday night at 6 PM, includes an all-day Saturday conference, and Sunday morning service projects in San Jose

June 22, 2018 – Toronto, Canada – Rotary eClub of Silicon Valley's RI Convention Friday Happy Hour in Toronto from 5:30 PM – 6:30 PM

June 22-27, 2018 – Toronto, Canada – 2018 Rotary International Convention

August 2018 – Our eClub's second annual charity fundraiser is coming up! More details coming soon!
More events coming soon! All events are open to guests, unless otherwise mentioned. Feel free to join us! If you ever have questions, please email [email protected]
What would you like to do?
Hey Members! What would you like to do? We're working on putting together some exciting socials and impactful service projects for our upcoming quarter's event calendar. Let us know what you want to do by posting in our members only Facebook Group (if you don't have access, please request it with Webmaster Mitty). Remember, you're only taking advantage of the full impact of Rotary when you're stepping up to get involved.
---
Happy Dollars: Do Good by Sharing Something Good
Each week we ask our members to share stories with the club and toss in a few dollars to support our efforts. The primary goal of this section is to provide a fun way of getting to know each fellow members and guests, while giving back to a good cause.
Happy dollars is an opportunity to share something positive that has happened in your life whether it is personal or business. Think of it as your opportunity to brag a little, but also put a little bit into a karma jar. The money donated through happy dollars is put to charitable use, and the message that you leave for happy dollars will be posted in our online meeting the following week for the entire week for folks to see! (Pending that it's appropriate!)
Here are the happy dollars contributions from last week!
Member Catherine A made a $20 donation. Here is what she had to say:
Congratulations to the Duke and Duchess of Sussex (who have worked tirelessly for global human rights and education, lifting up the disabled and promoting environmental issues) on their May 19, 2018 wedding, where donations to charity were requested in lieu of wedding gifts: https://www.royal.uk/wedding-charity-donations
Member Monique Ziesenhenne made a $20 donation. Here is what she had to say:
So happy I was able to take part in the hooding ceremony, for the Ph.D. I completed last fall! My mom, two of my three kids, and my husband came with me to Boston last Thursday! Yippee! Please add to the Club General Fund.
Member Rory Olsen made a $20 donation. Here is what he had to say:
I am just about well. Then there will be six weeks of construction left to be done.
Please apply my gift to Polio Pus.
So what are you happy about? Share with us below to help with doing good around the world.
---
Selected Comments
Every week at the bottom of our meetings, there is a comments section for members and guests to tell us what they enjoyed about the meeting or to ask questions to the speaker. We select a few comments every week from last week's meeting to be featured during this week's meeting.
  
Here are the comments selected from last week's meeting.
Nathan Gildart said:
Jonathan, thank you for the presentation. It looks like Australia are truly leading the conservation charge. I like the point made about service and social activities – it really is quite easy for many movements to do this. You just have to be creative in how you bring people together. Like Tzviatko, I was surprised to hear a professional can plant so many trees. I'm from Canada and tree planting is a summer job some friends did way back in the day.
Love the Giethoorn video as well (already sent it to a couple of Dutch colleagues).
Monique le Conge Ziesenhenne said:
Great program! Palo Alto has a huge emphasis on trees, including our Urban Forestry program and maps of tree walks.
Love Giethoorn – I visited it once when I was younger, long before there was such boat traffic as seen in the video. And since I shared happy dollars for my Ph.D. hooding ceremony last Thursday, here is a photo of my mom, two of my three kids, and me (husband taking photo) in Boston just after the ceremony. Yippee – all done!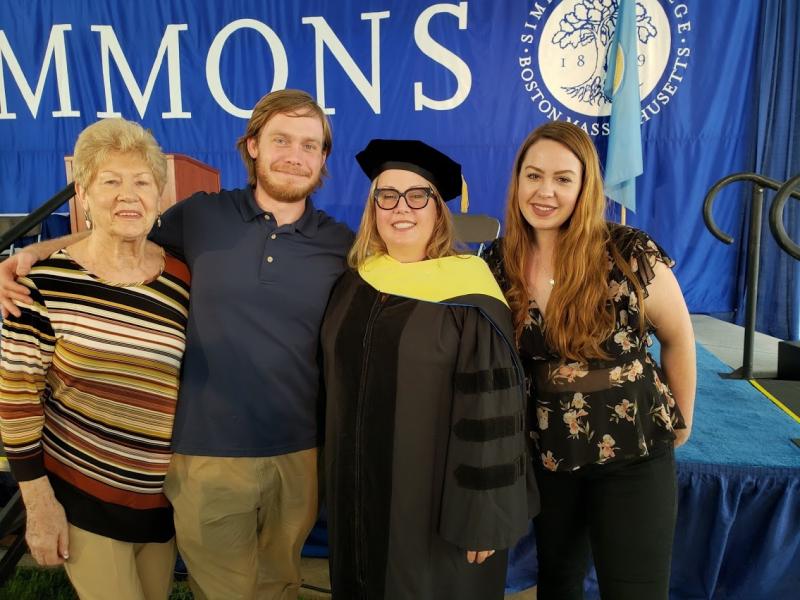 ShagsCA said:
Great program! And loved Yvonne's contribution, of course…Just last week I was shopping and stepped on a dropped grape — it let out a little "wine"!
Be sure to leave a comment at the end of this week's meeting after you watch the program below, and perhaps you'll see your comment featured next week!
---
Program: Marketing Challenges and Opportunities for Nonprofit Organizations
Every week we bring to you a new program on innovation, education, technology, and humanitarian service.
When every organization (for-profit or non-profit) has a website, Facebook page, and Instagram account, how do you get your non-profit message out to the people you want to reach? How do you make your fundraising pitch, recruit more volunteers, sign up members, or organize constituents?
In this presentation, our speaker, Benay Todzo, will talk about some of the varied methods non-profits are using to reach their audiences and how they integrate modern digital techniques with traditional networking to reach their goals.
Benay Todzo is a marketing professional who has extensive experience with both for-profit and non-profit organizations. She sits on several non-profit advisory boards including Junipero Serra High School, Hillsborough AYSO (American Youth Soccer Organization) and DukeEngage.
Members and guests, please welcome Benay Todzo!
Benay Todzo – Marketing Challenges and Opportunities for Nonprofit Organizations
Share your thoughts or ask our speaker a question in the comments at the bottom of this meeting page!
---
Upcoming Program Recording Schedule
All of our guest speakers and programs are recorded live online over Zoom video conference. We welcome members and guests to join us in one of these upcoming recordings. Recordings are approximately 30 minutes long and are subject to change without notice.
Our online video conference room link for these recordings is always https://zoom.us/j/5104080000. You are welcome to join us! Please note the timezone for all recordings are listed for San Francisco, California, USA time (Pacific Time).
---
You're Almost Done! One last thing: The Attendance Survey…
Thanks for reading and watching this week's meeting. You have two last things to do before you're done. First, we have a very short attendance survey below for you to fill out to record your attendance.
Visiting Rotarians, this is how you can get an email receipt to pass along to your club's secretary as proof that you've attended our meeting if you need it for makeups.
Non-Rotarian Guests, we would love to see who is dropping by our meetings! This part is optional for you. If you think you may want to join our eClub at some point in the future, we would strongly recommend you fill out the attendance form as it will improve your chances of success for your membership application.
More importantly, for all members and guests — we strongly recommend and ask that you leave a comment below in our comments area below. Tell us how you enjoyed the program. Ask this week's speaker any questions you might have. Or just stop by and say hello and tell us where you're from!